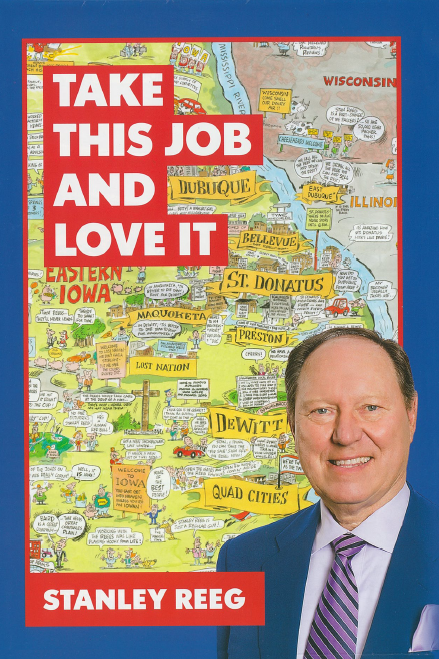 Iowan businessman and natural story teller Stanley Reeg shares his unexpected and dramatic journey from small town factory worker and son of an alcoholic to a life of wealth, community leadership and philanthropy in Stanley Reeg, Take This Job and Love It as told to Rich Wolfe, the prolific author of fifty-two books covering sports and the media. The riveting, fun and fast paced biography details the amazing life events that took Reeg from abject poverty to becoming a self-made multi-millionaire in the unlikely world of investments. Reeg's road to wealth was not the direct, guided path of most in the industry (through education and advantage), but was one of absolute determination, tireless effort, and perhaps just a bit of good luck. The values and strategies that he employs can serve as practical guidelines for anyone who is interested in finding their bliss and financial success.
Reeg's compelling "rags-to-riches" tale began in the tiny farming community of St. Donatus, Iowa, home to just 140 people. As a ten year old boy, one of seven children living in a house with no furnace or water, with a father whose salary from the local John Deere factory went to drink and a mother whose anxiety led her to several stays in a sanitarium, Reeg somehow just knew that he would "get rich." To overcome his dysfunctional upbringing and pursue his childhood dream, Reeg turned to positive thinking and his faith, while working his way up in factory jobs for 21 years. Believing that "when one door closes, another door opens", he considered his job loss to be an opportunity, and enrolled in a career assessment class where strong analytical skills with regard to numbers were revealed, and it suggested a career as a securities broker. Undeterred by his lack of experience or a college degree, he landed a job at a prestigious investment firm. After intensive training, he became the highest producer among his class of nineteen, continued to advance in his career as a top performer, and went on to become one of the country's leading financial advisors.
Stanley Reeg motivates, educates, and amuses in this plain spoken reminiscence. His ever present optimism will be an inspiration to anyone whose circumstances seem hopeless, and his lessons in searching for the career that best suits you, and then working harder than the next guy to succeed, is a roadmap for young people looking for fulfillment in the job of their dreams.

"I might not be the smartest guy, but I can outwork others. I put in the effort." -Stanley Reeg
"I just did not want to deal with failure, and I never wanted to go back to one of those factories. That is part of the blessing that has motivated me to become one of the top producers in our industry." -Stanley Reeg
"After writing 52 books, I thought I had seen and heard it all until I met the amazing Stan Reeg and heard his incredible rags-to-riches story. Every single person can drastically and easily change their life for the better by emulating Stan."- Rich Wolfe, author
What Readers Are Saying
"I just finished your book, and couldn't put it down. Reading it was refreshing and I wish there were a hundred more pages! Stan has had a successful life in many ways, but it is absolutely precious seeing him give credit to all the folks who nurtured and mentored him along his journey. The fundamentals he learned will lead all of us to a better life."
Randy Pribyl, CRC®
Senior Vice President of Investments
Robert W. Baird, Davenport, Iowa
After years of international business education, Stan's son Todd knew that he would follow in his father's footsteps, saying that "it was very inspiring for me to see what my dad built, and the difference he had made in our family and other families."
Todd Reeg, CFP®
Managing Director
The Reeg Group, Scottsdale, AZ
"Thoroughly enjoying the book - a real "rags to riches" story that is typical of this amazing country. It really goes to show what can be accomplished here with hard work and intelligence. It should be mandatory reading in schools and colleges."
Peter Volny
Regional Director
The Ferrari Club of America in Arizona